Everyone loves a clean and smooth Sofa, but it is tough to clean the things that you have never done before or don't have an idea about how to clean it. There are many ways to clean your Sofa but choosing the ways that are suggested by the professionals can give you a better result in an easy way. If you are looking for How to Clean a Fabric Sofa Naturally. Here are some best and easy ways that have been shared below and it can be very helpful.
How to Clean a Fabric Sofa Naturally?
There are many things that you have to consider before you opt for cleaning. Many different types of codes are given on your Sofa that tells you about the type of cleaning it can bear.
As we have no idea which Sofa you have and what you are up to. The labels on the Sofa will direct you to the type of cleaning you can perform. Like: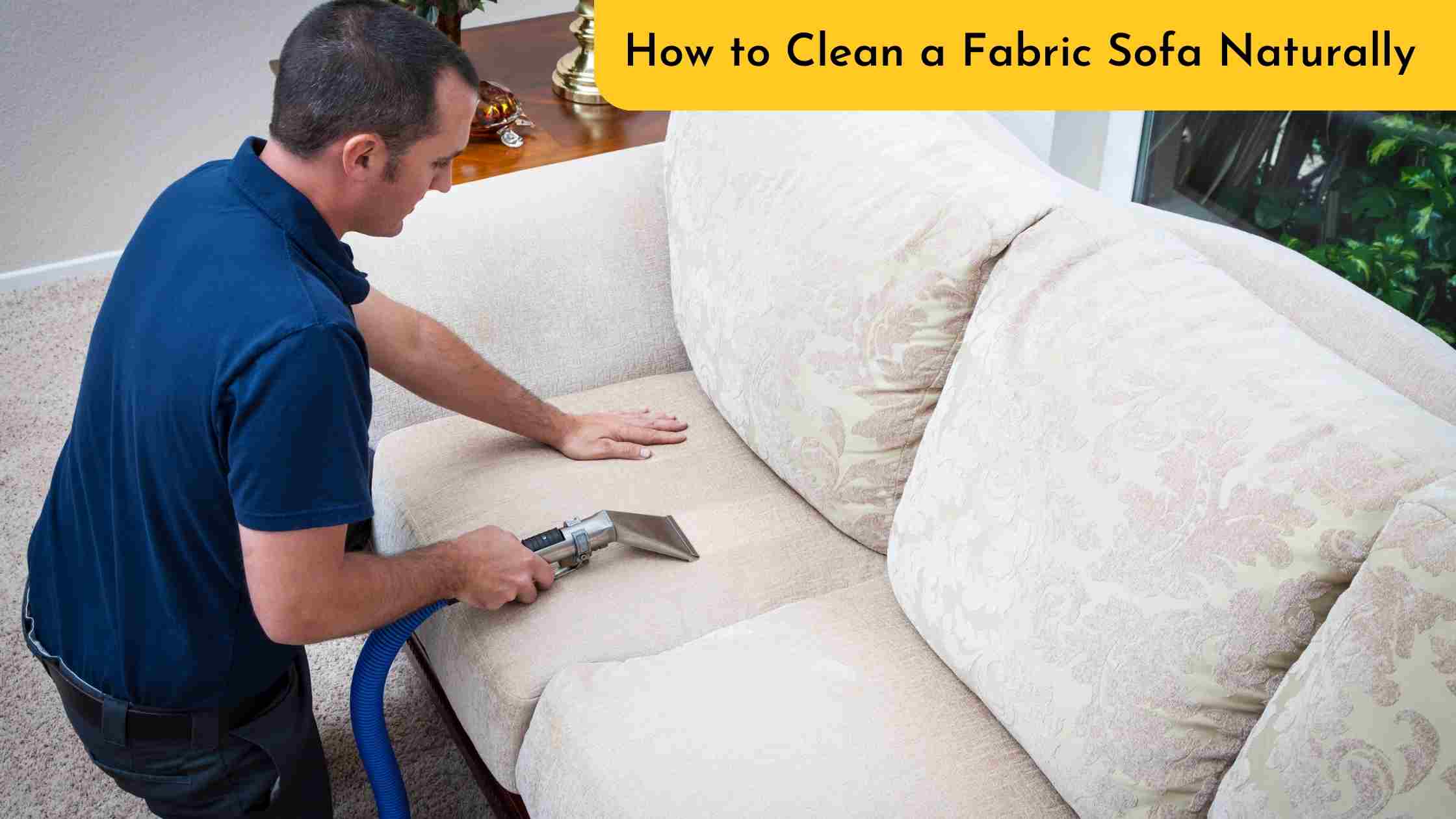 W: If there is written W, it means you can use Water for cleaning.
S/W: If Written S/W, it means you can use any solvents and water-based cleaners to clean your Fabric Sofa Naturally.
S: If there is written S, it means you can only use solvent to clean your Sofa.
X: If there is written X, it means that you can only use a Vacuum to clean your Sofa.
Before you opt to clean a Fabric Sofa Naturally, Check these labels carefully. Or you will end up losing the original feel of your sofa.
Items your need for cleaning:
When anyone opts to clean things at home, they always pick the items that are easily available. Well, this may not give you satisfying results. You need to have some sorts of items to get better cleaning results like:
Dry brush
Vacuum
Baking soda
Steamer
Vinegar
Water
Drying towels etc.
Easy Steps of Cleaning:
Hope you have checked the cleaning labels on your Sofa. The very first that you have to perform is to make your sofa ready for cleaning like cleaning it using a cloth or Dry Brush or any dedicated equipment etc. Once you are with that, follow the mentioned steps below:
Step 1: Vacuum
Before you begin vacuuming, Lint brush on your sofa to loosen debris. Then, use a Soft brush attachment and vacuum the complete couch. Remove the upper part of the sofa like cushions (if possible), and get into the crevices where crumbs and hair tend to hide.
Step 2: Wipe down
Use slightly damp Microfiber cloths to wipe down the non-fabric-upholstered area of the sofa like the legs, the supports, and the sofa itself.
These are the only process of cleaning that you can follow to clean your Fabric Sofa Naturally which is marked as "X".
Step 3: Strain Removal
If your sofa has any hard strains. You can use any eco-friendly solution to get rid of it. But make sure to apply that on a very small area of your sofa to see the reaction.
Mix around two cups of water with one tablespoon of eco-friendly liquid and one tablespoon of vinegar. Keep the solution in a bucket and use Microfibre cloths and clean the entire sofa slowly.
Note: Using any harmful chemical for cleaning may discolour your sofa and you will end up losing the original feel of your sofa. Follow DIY Sofa Cleaning Method.
Step 4: Deodorize:
When it comes to doors, baking soda is your best friend. Sprinkle it over the entirety of your fabric sofa and leave it for around half an hour and vacuum it thoroughly. The odours will disappear alongside the baking soda.
Step 5: Pre-Cautions
If you are using Water to Clean Fabric Sofa Naturally. You have to make sure to get it dry as soon as possible. Use a Dry Cloth to make it dry once you finish with the cleaning.
So, these are some best ways to clean a Fabric Sofa Naturally. To make it all easy you can opt for professional cleaning and they will make your sofa shine like never before.
Professional Sofa Cleaning Services in India:
If you have never done this before and have no idea about the cleaning and everything. It will be better to hire the Busy Bucket Professional Sofa Cleaning Services and get it cleaned by the professionals at an affordable cost with guaranteed best results.
Once you get an idea about cleaning, later on, you can perform it yourself. We offer Sofa Cleaning Services in Mohali, Zirakpur, Panchkula, Dehradun, Noida, Delhi, Lucknow etc and many other locations in India. Just contact the team of Busy Bucket and get the best Sofa cleaning services in India at an affordable cost.
FAQs For How to Clean a Fabric Sofa Naturally
How to Clean a Fabric Sofa Naturally
You can use the Baking Sofa and Vinegar with a mix of water and spray on the area of your sofa that needs to clean thoroughly.
Can I use Shampoo to clean Sofa?
You can use that but using any kind of harsh chemical can dis-colour your sofa. So, it's better to use chemical-free cleaning solutions.
Which is the best solution to get rid of Odour from the Couch?
You can use Baking Sofa to get rid of the odours. The Baking Soda absorbs the odour and gives you a fresh smell.