Numerous individuals turn to social media to ask which popular wall paint colours to choose for their walls. While we offer suggestions based on factors such as indoor space, style, and existing decor, we believe it's comparable to asking what to have for lunch on a particular day. With countless options, the selection ultimately depends on one's personality, preferences, and desired outcomes.
That's why we have decided to address this question through a series of blog posts, such as:
The most popular wall paint colours for home interiors
How to select house paint colours
Common mistakes to avoid when choosing paint colours
In this post, we'll begin by showcasing some of the most popular interior paint colours for different areas of your home. These options are considered safe choices.
Living Rooms For Wall Paint Colours
Using dark paint shades in the living room can give it a classy, intimate, and luxurious feel. For instance, dark purple or fig colours can create a rich and classic look for a semi-formal or formal living room.
In the example room mentioned above, the drapes and chairs are also in fig hues, while tables in dark wood add depth to the space. The white ceiling provides some breathing space.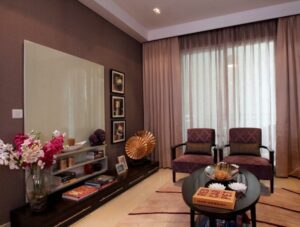 Dark shades of blue have also become quite popular for home interiors lately. Colours like indigo, navy, and blue ink offer modern options that can add a royal touch to any room. Similarly, darker shades of red are an excellent choice.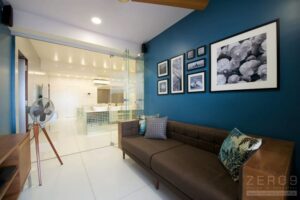 As a colour of energy, they work well in living rooms where you want to encourage conversations. In one example, The red-panelled accent wall complements the warm hues of the wooden flooring and sofas.
If you prefer a softer, soothing colour for your living room walls, consider pastels such as powder blue, lavender, lilac, or mint green.
However, it's important to balance these colours with stylish metallic accents, tables with glass tops, contemporary wooden furniture, and tufted and woven furnishings to avoid making the room look like a baby's nursery.
Bedrooms For Wall Paint Colours
The most soothing and calming wall colours for a master bedroom are light blues. This particular shade of powder blue offers a warm embrace, much like it would in a child's room.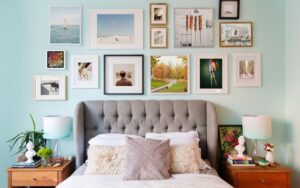 It pairs perfectly with a tufted grey headboard and light-bordered frames. Heather purple is another light and luxurious option for a bedroom, as demonstrated in this space. Adding a stunning golden sunburst mirror brings a touch of sophistication.
A soft yellow hue is cheerful and pleasant without being overly bold. When paired with simple blue bedding and minimal artwork, it helps maintain the tranquil atmosphere of the bedroom.
Read Also- Ultimate Guide to Home Cleaning Techniques