When it comes to choosing reliable and efficient cleaning services, Urban Company has been a go-to choice for many homeowners. However, it's always better to explore alternative options to ensure you make the right choice for your cleaning needs. Here in this blog, we will get to know about Busy Cleaning Services, a rising star in the industry, and provide insights into the pros and cons of Urban Company and Busy Bucket Services. Apart from this, we will also get to know about the  Alternatives and Urban Company Competitors.
Urban Company or Busy Bucket Services?
While Urban Company has gained popularity as a platform for various services, exploring alternative options can provide you with a wider range of choices and ensure you find the perfect fit for your needs.
However, Busy Bucket Services stands out with its exceptional services and commitment to customer satisfaction. Give Busy Bucket Services a try and enjoy a spotless and well-maintained home. Here are details about the Pros and Cons of each cleaning company.
Busy Bucket Services:
Busy Bucket Services is a professional cleaning company that provides exceptional cleaning solutions for homes and Offices. With a team of highly skilled and experienced cleaners, Busy Bucket Services offers a comprehensive range of cleaning services designed to meet the unique requirements of its clients. Whether you need regular house cleaning, deep cleaning, or specialized services, Busy Bucket Services ensures top-notch results, leaving your space spotless and fresh.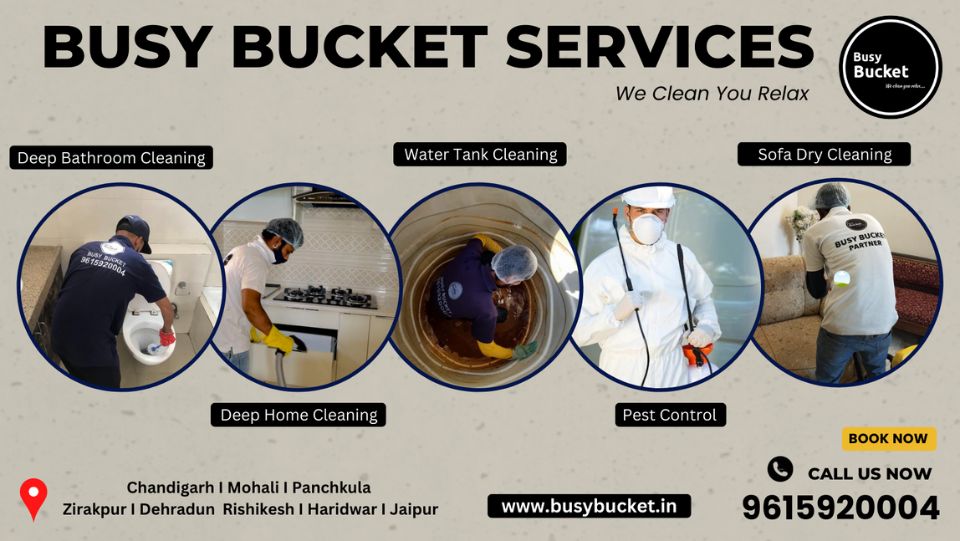 Pros of Busy Bucket Services:
Easy Booking Process ( Simply Call and Book your slots)
Reliable and punctual cleaners
Attention to detail and high-quality cleaning
Flexible scheduling options
Competitive Pricing
Eco-friendly cleaning products and practices
"Do It Again Policy."
Excellent customer service and personalized approach etc.
"Cleaning made effortless: personal assistant, enhanced service, no direct with cleaning partner communication."
Presently services are available in 20+ Cities.
Under the "Do It Again" policy, if you are not satisfied with the professional's work, you can report your issue within 24 hours of cleaning and ask for "Do It Again", and the team of Busy Bucket Services will happily do it all again for free. 
Cons of Busy Bucket Cleaning Services:
Limited coverage area (currently available in select cities)
Urban Company:
Urban Company (formerly known as UrbanClap) is a well-known platform that connects customers with various service professionals, including cleaning services. It has gained popularity due to its extensive network of verified professionals and easy booking process.
Pros of Urban Company Cleaning Services:
A vast network of professional cleaners
Wide range of cleaning services available
Convenient online booking system
Transparent pricing and payment options
Assurance of verified professionals
Cons of Urban Company Cleaning Services:
Quality may vary depending on the individual cleaner
Availability can be limited, especially during peak times
Pricing may be relatively higher compared to local cleaning services
Inconsistent customer service experiences reported by some users
Competitors and Alternatives to Urban Company:
Busy Bucket Services and Urban Company are prominent players in the cleaning industry; there are several other companies worth considering:
MaidPro:
MaidPro is a trusted cleaning service provider known for its detailed cleaning approach. With customizable cleaning plans and well-trained professionals, MaidPro ensures a clean and organized home.
Handy:
The handy platform connects customers with various home service professionals, including cleaners. It offers flexibility in scheduling and a broad range of services.
Housejoy:
Housejoy is a popular platform in India that offers many services, including home cleaning, plumbing, electrical repairs, beauty services, and more. With a large network of skilled professionals and user-friendly booking options, Housejoy ensures a convenient and reliable service experience.
TaskRabbit:
TaskRabbit is a versatile platform that connects users with professionals for various tasks, including cleaning, home repairs, furniture assembly, and more. TaskRabbit maintains a rigorous vetting process to ensure users find trusted professionals who meet their specific requirements. Task Rabbit is a Good Urban Company Competitors.
Helpr:
Helpr is a trusted platform for home services in India. It offers various services, such as cleaning, plumbing, electrical repairs, and appliance services. Helpr ensures users can easily book verified professionals and enjoy hassle-free service delivery.
Zimmber:
Zimmber is a comprehensive platform that covers a wide range of home services, including cleaning, repairs, pest control, and more. With a focus on providing skilled professionals and transparent pricing, Zimmber ensures a satisfactory service experience.
Timesaverz:
Timesaverz is a reliable platform that offers home cleaning, beauty services, appliance repairs, and other household tasks. With its user-friendly interface and efficient service delivery, Timesaverz simplifies finding and booking trusted professionals.
Mr. Right:
Mr. Right is a popular platform for home services, including cleaning, repairs, painting, and pest control. It emphasizes quality assurance by connecting users with experienced professionals well-equipped to handle their specific needs. Mr. Right is also a good Alternative and Urban Company Competitors.
Home Triangle:
Home Triangle is an online platform that connects users with skilled professionals for various home services, such as cleaning, repairs, painting, and interior designing. It provides personalized recommendations and offers competitive pricing options.
Should I Choose Busy Bucket Services over Urban Company?
Among the alternatives mentioned, Busy Bucket Services deserves special attention as a standout alternative to Urban Company. With its exceptional services and customer-centric approach, Busy Bucket Services offers a top-notch cleaning experience. Here's why Busy Bucket Services should be your preferred choice:
Highly trained professionals
Personalized cleaning plans
Us Eco-friendly items for cleaning
Exceptional customer service
Quality Service at an Affordable Cost
Offer Services with a "Do it Again" Policy
Customer Satisfaction Guaranteed
The listed competitors offer unique strengths and advantages, ensuring you have a range of choices when selecting a cleaning service provider. Whether you opt for Busy Bucket Services or any of the alternatives, you can enjoy a clean and fresh living space with the help of these reliable cleaning companies.
FAQs For Companies like Urban Company
Does Busy Bucket Services use eco-friendly cleaning products?
Busy Bucket Services is committed to using environmentally friendly cleaning products and practices, prioritizing the health and well-being of both customers and the environment.
Are the prices offered by Busy Bucket Services affordable?
Busy Bucket Services offers affordable pricing without compromising on the quality of its services, allowing you to enjoy a clean and fresh home at an affordable cost.
Does Busy Bucket Services Offer Customized Cleaning?
You have the option to opt for the Customized cleaning. You can make your cleaning plan. Our team will work at their best to offer you world-class cleaning at an affordable cost.